The Streamline Trace is a reliable distance driver with a straight-stable flight and exceptional glide. Its versatility caters to players of all skill levels, making it a go-to disc for a variety of arm speeds.
Flight Chart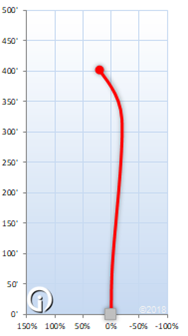 More Information

| | |
| --- | --- |
| Manufacturer | Streamline |
| Model | Trace |
| Disc Type | Distance Driver |
| Stability | Overstable |
| Speed | 11 |
| Glide | 5 |
| Turn | -1 |
| Fade | 2 |
| Call For Price | No |
Description
The Trace has a manageable 21mm rim width and straight-stable flight that places it squarely in the Speed 11 Power Straight market. The Trace's moderate dome is smooth and even, with a shoulder and depth that yields excellent glide. Most players will be able to stand the Trace up on a hyzerflip, but the Trace will soak up plenty of power before being pushed off its straight line. Its ending fade is smooth but dependable for easy ranging.
Plastics Available: Neutron, Proton, Plasma, Cosmic Neutron
The Streamline Trace is a reliable and stable distance driver that's ready to take your game to new lengths. With a manageable 21mm rim width and a straight-stable flight, the Trace is designed to cater a variety of arm speeds Its moderate dome, smooth shoulder, and ideal depth combine to deliver exceptional glide, allowing your throws to soar through the air with ease. Whether you're a seasoned player or just starting out, the Trace's versatility makes it a go-to disc for a wide range of arm speeds.
The Cosmic Neutron Trace was the first Signature Series disc chosen by former PDGA World Champion Sarah Hokom. As her preferred disc on tour, the Trace has proven its reliability and performance. Available in Cosmic Neutron plastic, this premium blend offers durability and stunning visual appeal with its unique swirl patterns. With the Cosmic Neutron Trace in your bag, you'll have a straight-stable distance driver that can handle a variety of shots, while also showing your support for Sarah Hokom's tour.
Choose from a range of plastics including Proton, Neutron, Cosmic Neutron and Plasma, and weights from 164g to 175g, to find the perfect Trace for your playing style. Experience the speed, control, and reliability of the Trace and elevate your distance drives on the disc golf course.