The Innova Destroyer is a high-speed distance driver disc used in disc golf. It is known for its ability to fly far and fast, making it a popular choice among experienced players looking for long, accurate throws.
Flight Chart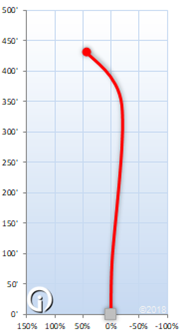 More Information

| | |
| --- | --- |
| Manufacturer | Innova |
| Model | Destroyer |
| Disc Type | Distance Driver |
| Stability | Overstable |
| Speed | 12 |
| Glide | 5 |
| Turn | -1 |
| Fade | 3 |
| Call For Price | No |
Description
The Innova Destroyer is a high-performance distance driver disc designed for experienced disc golf players. With a high-speed rating of 12, this disc is capable of flying farther and faster than any other in your bag. Its wide rim and beveled edge provide a comfortable grip, ensuring a smooth release and maximum velocity.
The Destroyer's flight path is both stable and predictable, allowing for accurate and controlled throws. Its stability is due to its unique design, which features a slight fade at the end of its flight, making it easy to control and perfect for controlled shots. The Destroyer's speed and stability also make it an ideal choice for big drives and long-distance throws, allowing experienced players to push their limits and achieve their personal bests.
Constructed from durable plastic materials, the Innova Destroyer is built to last. Its tough exterior can handle collisions with trees, rocks, and other obstacles without losing its shape or flight characteristics. Whether you're playing in a tournament or just having a casual round with friends, the Destroyer will provide consistent performance, throw after throw.
Overall, the Innova Destroyer is a must-have disc for any serious disc golfer looking to take their game to the next level. Its superior design and construction, along with its speed and stability, make it an ideal choice for experienced players looking to maximize their distance and accuracy. So why not add the Innova Destroyer to your bag today and start improving your game?
Plastics Available: DX, Pro, GStar, Champion, Star, Innvision, Bottom Stamp Star, Champion I-Dye