Unleash your distance potential with the Innova Mamba, Innova's top-tier understable high-speed driver. Perfect for intermediates seeking more distance and power throwers chasing ultimate turn. Tailwind, turnover, or roll – master every shot. Elevate your game today.
Flight Chart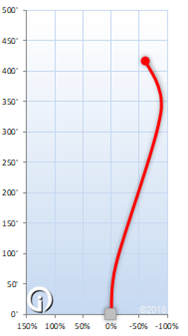 More Information

| | |
| --- | --- |
| Manufacturer | Innova |
| Model | Mamba |
| Disc Type | Distance Driver |
| Stability | Understable |
| Speed | 11 |
| Glide | 6 |
| Turn | -5 |
| Fade | 1 |
| Call For Price | No |
Description
Innova's Champion Mamba is designed to give the most distance with the least amount of effort.
Having a -5 high speed turn means this disc is great for beginners and very easy to turnover for the experienced player.
Plastic Available: Star, Champion, GStar, DX
Introducing the Innova Mamba: the pinnacle of understable high-speed distance drivers within the renowned Innova lineup. Crafted with precision and designed for exceptional performance, the Mamba is a game-changer for both intermediate players seeking to elevate their distance game and seasoned throwers looking to harness the power of ultimate turn. With its unique attributes, this disc promises to redefine your disc golf experience.
For intermediate players hungry for increased distance, the Innova Mamba is your key to unlocking new heights in your game. Its carefully calibrated design empowers you to effortlessly glide through the air, gaining that extra distance you've been striving for. Meanwhile, the Mamba's unparalleled ability to initiate dramatic turns places powerful throwers at the helm of their throws, enabling them to shape their shots with precision. Tailwind throws become an exhilarating adventure as the Mamba soars gracefully down the fairway, while turnover shots are a breeze, giving you complete control over your throws even in challenging situations. But that's not all – the Mamba's versatility extends to making it an exceptional roller, giving you a dynamic edge in your strategic gameplay.
Engineered to perfection, the Innova Mamba is not just a disc, but a gateway to mastering the art of distance throws. Whether you're an intermediate player eager to achieve newfound distances or a seasoned expert looking to refine your repertoire, the Mamba's unrivaled turn and adaptability make it an essential addition to your disc golf arsenal. Elevate your game, conquer the fairways, and experience the thrill of ultimate turn like never before with the Innova Mamba.